You must've heard of the popular HydraFacial! One is done every 15 seconds around the world.
In a short amount of time, it has conquered many celebrities from the entertainment world thanks to the fact that it is painless, immediately effective, non-invasive, and does not require recovery time. Some have also defined it as an excellent alternative to Botox, as the number of treatments administered has far exceeded that of Botox injections in recent years.
HydraFacial Abu Dhabi is a perfect aesthetic treatment for deep cleansing of the skin after heavy makeup, a beach holiday, or simply obtaining brighter, younger, and more compact skin, even before an event.
Quick Facts:
Procedure time: 30 minutes
Results last:  A week or more
Side Effects: rash 
Downtime: no downtime
Procedure type: Non-invasive procedure
Hydrafacial:
Hydrafacial is a perfect skincare advancement that cleanses, extracts and nourishes the skin using special technology. It is a procedure with several stages that is acceptable for all skin types and seeks to improve the skin's general health and look.
This therapy employs a handheld device that sends a stream of water to the skin. The liquid is a  mix of various serums. The device's spiral design provides a vortex effect, which aids in the removal of debris, oil, and dead skin cells from the pores.
Hydrafacial is a perfect solution for different skin needs. It is the best option for:
Eradicating wrinkles and lines.

Improving overall glow and skin elasticity.

Giving treatment to large pores.

Reducing oil surface on acne-prone skin.
What to Expect During a HydraFacial Treatment Session:
A typical HydraFacial Treatment session takes about 30 to 45 minutes and involves the following steps:
Cleansing and Exfoliation: The esthetician uses a gentle cleanser and exfoliating tip to remove impurities and dead skin cells from the skin.
Acid Peel: A blend of glycolic and salicylic acids is applied to the skin to loosen dirt and debris from the pores.
Extraction: The esthetician uses a suction tip to extract blackheads, whiteheads, and other impurities from the pores.
Hydration: A series of serums, including hyaluronic acid, peptides, and antioxidants, are infused into the skin to nourish, hydrate, and protect it.
LED Light Therapy: A red or blue LED light is applied to the skin to stimulate collagen production, reduce inflammation, and improve skin texture and tone.
Aftercare and Maintenance of Your HydraFacial Treatment:
To maintain the results of your HydraFacial Treatment, it is recommended to:
Avoid direct sunlight and use a broad-spectrum sunscreen with SPF 30 or higher.
Avoid hot showers, steam rooms, and saunas for at least 24 hours after the treatment.
Avoid applying makeup or skincare products for at least 6 hours after the treatment.
Drink plenty of water and follow a healthy diet to promote skin hydration and health.
Schedule regular HydraFacial Treatment sessions to maintain your results and improve your skin's overall health and appearance.
Aim of Treatment:
The main goal of the treatment is to:
Provide skin free of wrinkles, aging spots, and dry lines

To improve the skin tone and texture 

For the treatment of the large spots and pores in the skin 

Treats the acne-prone dermis
Hydrafacial Abu Dhabi Cost:
The HydraFacial Cost in Abu Dhabi is around 699 AED to 999 AED per session, although a lot depends on the area treated and the number of sessions established. In fact, in addition to facial treatment, which is the most requested area, this technique can also be applied to the neck, shoulders, and back, especially in cases of acne or in the presence of impurities.
| | | |
| --- | --- | --- |
| Express HydraFacial | 1 hour | 400 AED |
| Deep HydraFacial | 1 hour | 600 AED |
When to see the results:
After the first day of taking Hydrafacial, you will see a visible change in your appearance.. Your skin will look refreshed and revitalized right from the start. You will observe a tightening effect on your face. However, the finest outcomes come from a series of treatments spread out over several weeks. The state of your skin and your objectives will determine how many treatments you require.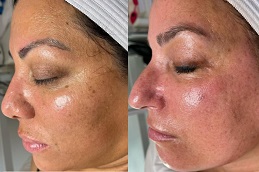 Benefits:
The facial offers visible advantages and benefits from the first session. Here are some of them:
There are many advantages of the procedure. These are the ones

Lines on the face and creases are removed by the process

Skin damage due to the sun is treated

The dermal layer is not toned and is uneven

Oily skin and acne-prone

Large sized pores 

blackheads and whiteheads

Do moisturization and make the skin hydrated

Painless process 

No required downtime 
Ideal Candidate:
The candidacy criteria for the Hydrafacial in Abu Dhabi are:
People who want to increase the glow on their face 

For the deep cleansing of the dermis

To get rid of dark spots and oily skin 

Individuals with infections should not go for treatment 

There is no age restriction for the process. 
What is an Express Hydrafacial?
An express hydrafacial is a shortened version of the regular hydrafacial treatment. It typically takes around 30 minutes to complete and is designed for people who are short on time. The Express hydrafacial involves using the same machine and spiral tip used in regular hydrafacial treatment, but the treatment is not as intensive.
What is Deep Hydrafacial?
A deep hydrafacial, on the other hand, is a more intensive version of the regular hydrafacial treatment. It involves a deeper exfoliation process, more extractions, and an extended hydration step. The treatment takes around 60 minutes to complete, and the results are more significant than the express hydrafacial.
Differences Between Express and Deep Hydrafacial:
Treatment Duration
The duration of the treatment is the most significant difference between express and deep hydrafacial. The express hydrafacial takes around 30 minutes to complete, while the deep hydrafacial takes around 60 minutes.
Intensity of Treatment
The intensity of the treatment is another difference between the two. The express hydrafacial is less intensive than the deep hydrafacial. The express hydra facial is designed to provide quick results for people short on time, while the deep hydra facial is more comprehensive and is designed to target specific skin concerns.
Depth of Exfoliation
The depth of exfoliation is also different between the two treatments. The deep hydrafacial provides a deeper exfoliation process, which can help remove dead skin cells and unclog pores more effectively than the express hydrafacial.
How often do you need to get a HydraFacial?
After every 4 to 6 weeks or we can say a month you can get the hydrafacial treatment. The Hydra facial will treat different problems and will give you skin that is very glowy and radiant. The procedure is perfect for uneven skin tone. 
While getting a HydraFacial in combination with other non-invasive procedures like Botox or microblading, it's essential to consider these treatments' side effects and downtime before getting a facial.
Why Choose Us?
When it comes to your skin health and beauty, you deserve the best! At Enfield Royal Clinic, we take pride in giving you the best Hydra facial experience. When you visit us our specialists will understand the level of your skin then they prepare your skin according to specific Hydra facial. Your relaxment is our top priority and we carefully listen to you. We maintain the highest standards for your well-being. If you have any queries related to our treatment approaches then visit us for complete discussion.
Book your Appointment to Renew your Skin!
Our experts are available every time to give you a consultation. If you want to provide the benefits of hydrafacial to your skin then fill out the form below and secure your appointment.
FAQ's: