A skin condition characterised by redness, discomfort and flushing is rosacea. Different issues like vascular disorders, gastrointestinal tract pathology, dysfunctions of the endocrine system, psychosomatic and immune disorders cause the condition. With innovative medical techniques and tailored methods, you can find relief from rosacea and restore your skin's natural radiance. Now say bye to your redness and irritation issues with the Rosacea Treatment in Abu Dhabi. Read the page below to know in detail.
Quick Facts:
Cost: AED 800 TO AED 2000
Results last: 3 months or more 
Side Effects: swelling or irritation on the skin
Downtime: no downtime
Procedure type: Non-invasive procedure
Aim of Treatment:
Since there are a lot of factors that provoke and aggravate the course of rosacea, treatment methods are also diverse. 
Some drugs are aimed more at reducing facial rosacea

Other medicines and techniques are used to treat individual diseases of the nervous system and digestive organs.
Symptoms of the Disease:
Skin changes are hardly noticeable at the initial stage and are temporary and transient. Then vasodilation becomes persistent and noticeable. 

The skin's temperature rises locally against the background of dilated vessels if the skin is not adequately cared for or thick, all conditions are created to develop a secondary infection.

There are inflammatory elements and pustules.
Superficially located vessels react to the action of internal and external factors expand.
Results:
After one to three treatments, patients see a significant reduction in their symptoms, lasting up to five years. In one study, 50 percent of patients saw moderate to tremendous relief in their rosacea symptoms after using the laser.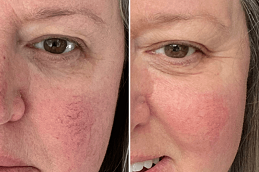 Ideal Candidate:
Treatment of facial rosacea is necessary in the following cases:
persistent erythema or redness

dryness and sensitivity of the skin

spider veins and meshes

puffiness of the face.
Most often, laser and phototherapy are not carried out in the following cases:
period of pregnancy and lactation

oncological diseases

exacerbation of chronic pathologies.
Diagnosis:
To make a diagnosis, a consultation and examination by a dermatologist are enough, and it is essential to determine the stage and subtype of the disease. The prescribed therapy will depend on this.
First-line treatment is the appointment by a dermatologist of targeted external therapy and, if necessary, drugs inside.
To improve the quality of the skin, achieve remission of the disease as soon as possible, and eliminate the consequences of rosacea, the clinic's doctors use additional methods.
Treatment Options:
After stabilizing the process and reducing the inflammatory process in the tissues, procedures are prescribed that can eliminate the consequences of the disease and delay possible exacerbations for the longest possible time.
The main methods of treatment for rosacea are explained below:
Medication:
Antibacterial drugs from several tetracyclines or macrolides are used for treatment. To reduce sebum production, the use of sebum suppressors may be recommended. Medicines are prescribed for both internal and external use. The use of creams and ointments is significant in the fight against the Demodex mite.
Laser Treatment:
The pulsed cold infrared laser is a physiotherapeutic procedure that is pleasant for the patient. The laser has a calming effect on the skin, relieves redness, removes swelling, strengthens the vascular wall, reducing tissue inflammation. In order to achieve a pronounced and lasting result, on average, 6 to 10 sessions are required 1-2 times a week.
Phototherapy:
Due to the impact of impulsive light, it is possible to eliminate even persistent manifestations of the disease that traditional methods could not remove. On average, 3-6 sessions are required once a month to achieve a uniform complexion, remove redness, reduce skin inflammation and visible vascular network. The IPL light wave helps to destroy dilated blood vessels and thus restore healthy skin color. Healthy tissues are not affected during such treatment, so the technique is entirely safe.
Cryolysis:
With the help of liquid nitrogen. Nitrogen has a general anti-inflammatory effect and a destructive effect on the pathogenic flora.
Aftercare:
Rosacea is a chronic pathology, and therefore, after therapy, there is always a risk of reappearance of the capillary network and redness. You will need to follow some recommendations that will prevent relapses and new signs of redness:
Try to avoid overheating and hypothermia of the skin to not provoke the appearance of spider veins.

Stay out of the sun as little as possible, and don't forget to use sunscreen.

Stick to specific skincare. The doctor will help you choose professional care products that will help increase skin turgor and elasticity.

Adjust the diet, if possible, refuse too hot and spicy food. Also, give up alcohol, as it can provoke a severe exacerbation.

Do not neglect preventive examinations by a dermatologist. By visiting the doctor 1-2 times a year, you can prevent the recurrence of rosacea and keep your skin healthy and beautiful.
Cost:
The cost of Rosacea Treatment in Abu Dhabi can range from AED 799 to AED 1999. The price can vary depending on several factors.
Book an Appointment!
According to the tradition of Enfield Royal Clinic, improved confidence and improved health for everyone! 
FAQ's: