The Enfield Royal Clinic is proud to offer Radiofrequency Micro needling, a new micro needling treatment that tackles the signs of skin aging, fine lines, wrinkles, and scars with minimal downtime. Microneedling are used to deliver Radio Frequency energy to the deepest layers of skin. This unique energy delivery allows us to achieve the best results for all skin types.
Fractional RF Micro Needling in Dubai is a simple, safe, and effective procedure that can be performed quickly and with minimal investment of time. For the best effect, 3-4 Fractional RF Micro Needling sessions are recommended. You will start to see results after the second treatment, but the best results will appear 3 months after the last treatment.
What is it?
Radiofrequency energy heats the underlying layers of the skin, causing the skin to tighten and tighten and stimulating the production of collagen and elastin. Because RF energy is delivered very deeply, it can provide faster and more dramatic results.
RF Micro needling uses a gold-plated needle device that gently passes through the skin, delivering radio frequencies deep into the dermal layers of the skin. Radiofrequency heats up to a depth that provides a cumulative and sustained effect of collagen stimulation, skin tightening and surface renewal.
Benefits:
Some of the most significant benefits of Fractional RF Micro Needling are as following:
The treatment is minimally invasive

Texture and firmness of skin can be improved

Micro-needles are used which do not cause any damage

Reduction of superficial scars

It also works for anti-aging and wrinkles

It stimulates the body's own healing process and increases collagen production

It gives beautiful, smoother, healthier, and younger-looking skin.
Results:
After the procedure, you will be asked to stop making up for several hours. Some redness or swelling will disappear because of the treatment within 12-24 hours. After treatment, you can return to your normal activities.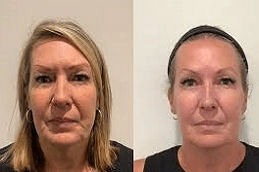 What Does it Treat?
It is ideal for people looking for:
Aging of the skin

Fine lines and wrinkles

Acne scars

Scars, including surgical scars

Stretch marks

Skin quality, tone, and texture

The treatment is safe and very effective.
How Does it Work?
The underlying layers of skin are heated with Radiofrequency energy. It causes the skin to tighten, and at the same time, it stimulates collagen production and makes skin more elastic. The most significant advantage of Radiofrequency energy is that it reaches the deepest layers of skin and produces rapid and noticeable results.
In this treatment, gold-plated needles are used, which gently pass through the skin to deliver radiofrequency into the deeper layers of skin. Radiofrequency is heated to a depth that provides a cumulative and sustained effect of collagen stimulation, skin tightening, and surface renewal.
Procedure:
Micro-needles are used to deliver radiofrequency energy to different levels of the skin, including the deeper layers where treatment is most beneficial. Unlike other devices that store energy only in the top layer of the skin, it emits radiofrequency energy below the surface where it is most needed for rejuvenation. This unique energy delivery allows achieving the best results with minimal downtime for all skin types.
How many Treatments are Needed?
The number of sessions varies from person to person. However, it is generally recommended to take three to five sessions at one-month intervals.
How Long Does a Teatment Last?
The durability of your results depends on you. Results last longer if you maintain proper skincare, including your daily Sunblock!
Aftercare and Recovery:
Minimum time. You can return to normal activities. Feeling light inflammation is common. After treatment, the skin may appear slightly red for a short time. You need to avoid the sun and always use an SPF 30 sunscreen. Recovery is straightforward and with the low risk associated with this procedure. We always recommend that you plan accordingly, as some clients will have more noticeable side effects.
Cost:
The cost of Fractional RF Micro Needling in Dubai can be affected by several factors. Your doctor can only determine the final price after the initial consultation. The cost can range from AED 1300 to 1500 AED, and it can go up depending on the number of sessions you take.
Book an Appointment!
At the Enfield Royal Clinic, we use the best procedures, methods, and products to restore and renew the appearance, helping to restore a youthful appearance and strengthen the harmony of the face. If you get Fractional RF Micro Needling in Dubai, fill out the consultation form below to book a free appointment.