Who doesn't want to halt or reverse the aging process, right?
DMK Enzyme Treatment in Abu Dhabi work in tandem with your lymphatic system and your body's enzymes to hydrolyze dead skin cells, increase oxygenation, increase cellular activity, encourage new collagen and elastin formation, detoxify the skin, and revive skin health to cure acne, aging, pigmentation, and bruising.
How Does it Work?
It works by supplying skin cells with deep oxygenation. This treatment is applied as a mask that comprises a combination of transfer enzymes and specialized chemicals that serve to promote circulation, lymphatic drainage, free water levels in the skin, collagen synthesis, and metabolic function of the skin. In other words, it encourages your skin to function properly, resulting in a smooth, healthy complexion.
Enzymes remove dead skin cells and pollutants during the procedure, then work to produce an antioxidant-rich structure within the skin that protects against free radicals while also stimulating collagen creation.
Benefits:
The treatment has many advantages, some of them are given below:
The enzymes are designed to improve the skin's integrity of the structure

Provide a healthy environment for cells to live and thrive in

Regulate and increase the internal processes and structures of the skin to their full potential

Long-term skin health rather than rapid cures

Eliminate, Restore, Shield, and Sustain is the approach this treatment seeks.
The chemistry of the skin is an ecosystem that acts similarly to a factory, with the end product being what you see on the skin's surface.
Results:
The outcome is a cleansed, youthful, even-toned complexion with long-lasting cellular vigor that fights glycation, avoids inflammation and pimples, and heals acne and rosacea damage.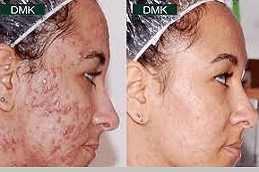 Ideal Candidate:
It is a time-consuming and in-depth procedure that takes an hour and a half to perform. The best candidate for the treatment is someone who fulfills the following conditions:
If you have particularly sensitive skin or other concerns, speak with your specialist before scheduling your treatment.

Do not get the treatment if you have any particular allergies.

Avoid getting the treatment while you are pregnant or breastfeeding.
Areas to be Treated:
Acne can be efficiently addressed and improved with the treatment. It can work on the following:
Capillaries that have burst

Tired and dull face

Pores that are quite large

Discoloration

Fine lines, wrinkles, and sensitive skin texture
Preparation:
In the weeks coming up to your treatment, stay out of the sun as much as possible.
When used in combination with the skincare line, it is most successful. Your cosmetologist will provide a skincare routine that is tailored to your specific needs and that you must follow following your procedure.
Procedure:
It takes roughly 1 hour and 45 minutes to complete the treatment. The treatment follows certain steps:
Initial Consultation:
The procedure begins with a comprehensive skin review and evaluation that considers your skin care concerns, what you'd like to alter about your skin, as well as your current food, exercise, and lifestyle regimen. This can help you figure out whether there are any contributing elements to your unbalanced skin function and skin care issues.
Exfoliation:
The treatment involves a two-step deep cleansing to remove dirt and cellular debris from your pores; the second exfoliating cleanse takes out any pollutants and toxins, increasing circulation to the layers of the skin and preparing your skin for the Enzyme therapy mask.
To push collagen production, we pretreat with a powdered vitamin C serum. This permits the enzyme mask amino acids to repair. The chemicals enter the cellular level, restoring structural integrity and revitalizing your skin.
The Mask is left on for 45 minutes after application. It seems like a calming face mask for the first half hour, but it really gets going in the last 15 minutes. 
When you feel a throbbing feeling throughout your entire face and the mask tightens, the enzyme therapy begins to operate, pushing fresh blood and nutrients throughout the skin network, oxygenating the skin tissues, and boosting lymphatic drainage to cleanse the face. 
The treatment concludes with the application of a variety of botanical scientific gels and serums to the face, which assist to increase skin immunity and collagen production. We could all use a little more collagen!
When the mask is off, you can immediately observe how your skin has responded.
What to Expect After Treatment?
You can notice itchy rashes where your blood vessels have given oxygen and blood to your skin, as well as capillaries opening, pumping more blood, oxygen, and nutrients into the skin while also carrying away pollutants. A high plasmatic impact indicates that the therapy has had a positive effect on your skin. From within, pure oxygen perfusion!
Cost:
The cost of DMK Enzyme Treatment in Abu Dhabi can range from AED 799 to AED 2999.
Why choose us?
Our practitioners provide personalized treatment solutions that are tailored to your body's chemistry, addressing lines, wrinkles, and sun damage, as well as balancing oil production and killing bacteria to prevent future breakouts.
Book an Appointment!
If you are looking for a DMK Enzyme Treatment in Abu Dhabi, fill out the consultation form below to book a free appointment.