Moles are an example of a pigmented lesion. Lesions that are benign or non-cancerous can be left alone. However, if your mole causes you any discomfort, your consultant may advise you to get it removed. If the color of a mole changes and grows darker, it implies that the cells that make up the mole have a lot of melanin or pigment. With a Benign Mole Removal Treatment in Abu Dhabi, you can have harmful or malignant moles removed as well as non-cancerous or benign moles removed at a facial cosmetic surgery.
What are Benign Moles?
Melanocytes are noncancerous skin cells that develop in clusters. The pigment that gives humans a tan is produced by these melanocytes responsible for normal skin coloring. The amount of pigment produced by the melanocytes in the skin lesion determines whether the mole is skin-color or brown. They can either be elevated or flat.
Do they Need Treatment?
Moles are a type of skin growth that is quite typical. Non-cancerous, malignant, and borderline tumors are all possible. Non-cancerous moles may not necessarily need to be removed. However, some people prefer to have their moles removed whether or not they are cancerous or have the potential to become cancerous.
Your primary care physician may be able to remove non-cancerous moles in some cases. When a mole is benign, it is normally removed in a minor office operation that takes only a few minutes in your doctor's office.
Aim of Treatment:
If your doctor determines that the mole poses no risk or concern, you have several options for removal. The first option is to have the mole surgically removed. The advantage of this procedure is that you can be certain the mole is eliminated. The disadvantage is that you will have a scar. Everyone heals differently, therefore it's hard to know how the scar will look in the end. The other techniques include cryotherapy, excision, and laser removal.
Results:
Typically, the outcomes are great, and virtually all patients are satisfied. The safety and effectiveness of this form of surgery have been proven through research. The majority of our patients report that they can live life to the fullest after removing a conspicuous or suspicious mole.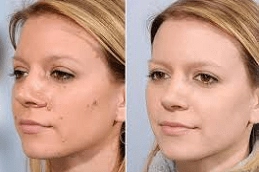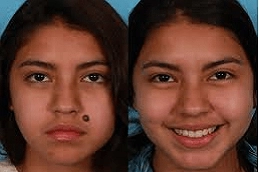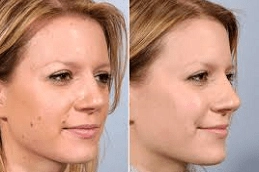 Benefits:
Although moles on the body are prevalent, not all of them are harmless. Whether you're considering mole removal for aesthetic or medicinal reasons, they can live life to the fullest or both, and there are numerous advantages to having it done at your preferred facility Enfield Royal Clinic:
Clear and Smooth skin
The cosmetic benefits of mole removal are always at the top of the list, and with good reason. Some people are more prone to developing moles than others, and an abundance of moles on the body, whether on the face or elsewhere, can lead to concerns with self-esteem. Many black moles are impossible to conceal with cosmetics, and mole removal allows for clear, smooth skin.
Irritation of the Skin
Mole removal decreases skin irritation caused by particular moles rubbing against jewelry or clothing.
Medical Difficulties
Not all moles are harmless! While most of them are benign, those that change shape or color should be taken seriously since they could suggest the onset of melanoma.
Pain
Some moles are simply awful! Many develop in large numbers in inconvenient areas, like on the head, making brushing and combing uncomfortable. 
Ideal Candidate:
You're a good candidate for mole removal if you're unhappy with the look of a mole or are worried that an oddly shaped or pigmented mole could be cancerous.
Regardless of age, skin type, or skin tone, most people find the treatments safe and effective.
Male and female patients have benefited from rapid, painless removal from any body region with no downtime and simple, speedy recovery.
During your initial visit, if you have any questions regarding your candidacy, one of our doctors can assist you in determining whether this treatment is correct for you.
Preparation:
A specialist will assess the color, size, and look of the mole or moles treated at the first appointment to discuss mole removal.
They'll also look at your skin type and recommend surgical treatment for you.
After this essential evaluation, they will advise you on the best surgical solution for your specific moles and health.
Treatment Options:
Excision:
Using a knife or special surgical scissors, excision, also known as cutting, includes removing the mole and a small skin margin. 
Your doctor will inject a topical anesthetic into the mole before cutting it out to make the removal process as painless as possible. Your doctor may need to use stitches to heal the wound after removing your mole if it has grown deep into the skin.
Surgical Removal:
A mole excision is akin to surgical removal of a mole. Your doctor will shave off layers of the mole with a knife until it is gone. 
Your doctor will give you a local anesthetic to numb the region so you don't feel any discomfort before shaving. After this sort of mole removal, stitches are typically not required, but the skin may have a little pink area where the mole used to be.
Laser Mole Removal:
Lasers can be used to treat certain moles. This is most typically done on non-cancerous moles that are tiny and flat. Your doctor will utilize bursts of light radiation to remove the mole tissue during laser removal. 
Laser therapy may require two or three treatments to eliminate a mole. If moles are in difficult-to-reach places, such as the ears, or on sensitive or highly visible skin regions, such as the face, laser treatment may be a viable alternative. Lasers can also be used to remove many moles simultaneously.
Freezing:
Non-cancerous moles that only exist on the skin's surface can be frozen away. If you and your doctor decide that freezing your mole is the best way to get rid of it, your doctor will use liquid nitrogen to accomplish it. You can have a little blister where the mole is on your skin.
Aftercare:
After your operation, you should be able to go home right away. If you experience any pain after your mole removal, you can take over-the-counter pain relievers like paracetamol.

Your consultant or general practitioner will inform you of the analysis results.

Following mole removal, your surgeon may ask you to return a few days later to examine the incision and replace the dressing.

If the wound turns red, puffy, or bleeding, make an appointment with your surgeon or the Outpatient Department.

Unless your job places a strain on the area repaired, you should be able to return to work the next day. Make sure to talk to your surgeon about your return to work.

Depending on what region was sewn, you will need to contact the doctor or the practice nurse to remove your sutures.
Cost:
The cost of Benign Mole Removal Treatment in Abu Dhabi starts from AED 599. Several factors impact the actual cost. The doctor will determine it at the initial consultation after doing a thorough examination.
Book an Appointment!
If you are looking for Benign Mole Removal Treatment in Abu Dhabi, contact Enfield Royal Clinic by filling out the consultation form below and book a free first appointment.