Losing hair is really disturbing because hair makes your overall look and plays a significant part in defining your personality. Watching people with healthy hair made you feel happy and you also opt for procedures and ways to get that hair. If you have the same desire then you got the right platform as we have brought our Alopecia Areata Treatment in Abu Dhabi. Stop worrying about this issue more. Just start an alopecia treatment journey now.
All You Need to Know About Alopecia Areata!
Treatment of genetically inherited false immune systems causes hair bristles to be shed from the skull and result in the formation of bald areas. It can be a consequence of environmental aspects. In this disease, the defected immune system falsely influences hair strength and makes hairless areas. The disease is not restricted to a certain age group instead it can be seen in different groups like youngsters or children and adults. As a consequence of Alopecia Areata the hair can drop off from any part of the body mainly it affects the face. This condition is so common in the whole world. Alopecia is among the problems that can be fixed by remedy.
Causality Having the Disease:
If the mother or father is an alopecia patient or this disease is present among grandparents then the chances for the deliverance of the problem in the coming generation are really at a peak, but this is not confirmed.
Reasons:
Certain reasons can be a source of Alopecia Areata, although these are not the same for everyone. The causes are:
Stress

Genetic issue

Defected immune system

Reaction to a medication
Effects of Treatment:
The impact of the procedure does not show up immediately. Like everything takes time to be properly visible and the hair growth is also the same. Hair will take time its grow in bald areas. The results are shown below: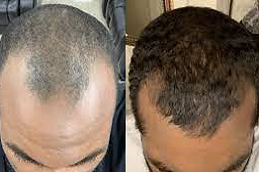 Advantages:
The miracles of the alopecia areata are as follows:
It helps you reduce hair loss and maintain hair balance.

Enhances hair growth by around 25%

Make you look pretty and perfect

Boost up your confidence
The Genre of Alopecia Areata:
Patchy Alopecia Areata:
This kind of alopecia happens when small patchy areas are built on the skull at some distance.
Alopecia Totalis:
This kind of alopecia happens when there is a flop of hair from the complete scalp. This result in full baldness.
Alopecia Universalis:
A rare situation is when a person starts losing hair from all over the body suffering from this disease type.
Signs of Alopecia Areata:
Distinguishing signs of alopecia Areata occur including:
Short areas showing baldness

Increased Hair loss

Bald patches become larger

Shedding of eyelashes

Red nails
Analysis:
For making sure that alopecia areata is the cause of the decrease in hair one needs to go to a dermatologist for some specific tests for confirmation. These analyses allow a more reasonable interpretation of the problem in consideration of the following:
Hormonal issues

Immune disorders

Family medical history

Eating habits
Different Treatments Which You Can Get:
Our Enfield Royal Clinic is offering Alopecia Areata Treatment in Abu Dhabi & Al Ain in several to treat its patients for their easiness and to provide them with freedom of choice. Several remedies can be provided to patients. The following are all our best treatments:
Corticosteroids:
To lessen the effect of the immune system on the hair strands Corticosteroids are used. This will decrease hair loss by working on the immune system. There is a chance of hair regrowth also.
Laser treatment:
Using photons to treat hair loss is laser therapy. In this procedure, the laser release photons in skull tissues to commence hair growth in bald areas and convert them into hairy ones.
Minoxidil medication:
This type of treatment is sometimes prescribed to the patients and it will work at its best when patients use these medicines combining them with other cures.
Steroid treatment:
Injections are inserted directly into the scalp in affected areas to improve growth. These injections have nutrients to boost hair growth.
Topical Immunotherapy:
When there is serious baldness and you don't get any option then a specially made solution is applied to your skin to regain hair growth.
Total Expense:
The expense of Alopecia Areata Treatment in Abu Dhabi may range from roughly 600 AED to different numbers as it always varies with the treatment type and doctor's experience and fame. The number ber of sessions also play part in deciding the cost factor.
Home Remedies to Treat Alopecia:
You can use home remedies to treat this disease but it can not be treated completely at home. the cures possible at home are:
Oiling your scalp

Medicines that help in reducing hair loss

Onion pulp

Zinc and Biotin

Have a scalp massage
Possible Drawbacks:
Patients who are treating their problems with medicines will face stomach disorders due to heavy medications. But in the case of other treatments like laser therapy and steroid treatment there will be minimal redness, inflammation, or maybe itching. But these minor effects will do within a day.
Why Enfield Royal Clinic?
Facing baldness is an issue that should be overcome immediately. Convert your baldness into shiny and smooth hair with our expert and qualified doctors in Alopecia Areata Treatment in Abu Dhabi. They are unmatchable in getting the results according to the demands and desires of the patient. We can tackle the severe patients of alopecia with our new technological treatments having all the safety measures and ensuring the safety of patients. You can also do installment strategies if you want to.
Book a Consultation!
You can book your appointment by filling out the form presented below. Alopecia Areata Treatment in Abu Dhabi is one of the best treatments in Abu Dhabi. Fill out the form to get your cure.