Our skin is an amazing and intricate structure that shields us from the outer environment. But it is undoubtedly afflicted by a number of diseases and disorders, from minor irritations to long-term conditions. Eczema is a form of chronic disease that causes red, swollen, itchy spots on the skin. Our lives can be significantly impacted by these irritants, which can harm our mental and physical health.  Several factors are causing eczema to spread quickly, and today, treatment of this illness is a top priority. For the best Eczema Treatment in Abu Dhabi, Enfield Royal Clinic is offering a multi-factored approach that enables you to reclaim control over your skin and receive the relief you need.
Quick Facts
Cost:

Varies

Results

: Long lasting

Duration of Treatment

: Varies

Type of Procedure

: Non Surgical and Non-invasive.
Eczema:
Eczema is a skin disorder marked by extreme dryness and roughness, which can cause unrelenting itching and even bleeding. The immune system, environmental, and genetic variables all play a role in this illness. Most often, we have faulty skin barriers that let the virus infiltrate the inner layers of our skin. Stress, irritants, allergies, high temperatures, and specific fabrics are typical eczema triggers.
Aim the procedure:
The major objective of this process is to keep the skin hydrated. Eczema symptoms are efficiently managed and controlled with treatment, which also lessens irritation, eases itching, and encourages skin healing in general. The treatment tries to relieve the itchy, painful symptoms of eczema while addressing its underlying causes.
Treatment for Eczema:
Each person's eczema experience is distinct, with varied symptom patterns. A multifactor strategy is required to effectively manage eczema, with an emphasis on minimizing skin irritation, hydrating the skin, and detecting recurrences. Enfield Royal Clinic's strategy is based on identifying your unique needs and developing a treatment plan in line with them.
Benefits:
Some key benefits of this restoration with a specific approach are:
Provides relief from uncomfortable symptoms.

Improves skin health and elasticity.

Regenerate internal tissues.

Enhances quality of life including sleep.

Reduces risk of infections.
Ideal Candidates:
Eczema can affect people of all ages. The most suitable candidates are:
All age group patients.

Patients with proper skincare routines.

Those who have confirmed diagnosis of eczema.

Individuals motivated to achieve long-term management control.

Candidates facing psychological issues due to uncomfortable symptoms.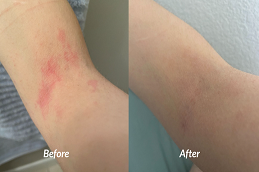 Preparations:
There are a number of pre-care instructions that can assist enhance the best results before beginning eczema treatment. Here are general guidelines for getting ready to get this treatment:
Consult with your doctor to diagnose the type of eczema.

Provide detailed medical history of your allergies to the doctor.

Maintain a good skincare routine.

Drink plenty of water.

Avoid scratching or rubbing your skin.
How is the Procedure done?
Your dermatologist will recommend the best course of action for your skin rejuvenation. Some common treatments include the ones listed below:
Topical Medications:
The most popular kind of treatment for eczema is a topical medicine, which is applied directly to the skin. Medicines are offered as creams, lotions, or gels and range in potency from mild to strong. These consist of topical immunomodulators, calcineurin inhibitors, and corticosteroids. While calcineurin inhibitors and topical immunomodulators assist control of the immunological response in the skin, corticosteroids help alleviate itching.
Wet Wrap Therapy:
Wet wrap therapy involves applying a moisturizer to the skin and then covering it with wet bandages or clothing. This method aids in increasing the moisturizer's absorption, decreasing irritation, and producing a calming effect. For severe eczema or flare-ups, wet wrap therapy is especially beneficial.
Phototherapy:
Phototherapy, also known as light therapy, involves exposing the skin to controlled amounts of natural or artificial UV light. Phototherapy is typically administered under medical supervision and can be done using UVA or UVB light.
Systemic Medications:
When topical treatments are ineffective for more severe forms of eczema, systemic medications may be used. These medications reduce inflammation throughout the body and inhibit the immune system. These drugs can be injected or administered orally. Systemic drugs are usually reserved when alternative therapies have been ineffective.
Biologic Therapies:
Biologic therapies are a newer class of medications that target specific molecules in the immune system involved in eczema. Biological agents are used in these therapies which are a newer class of medications in this treatment.
Allergy Testing and Immunotherapy:
In cases where eczema is triggered by specific allergens, allergy testing may be conducted to identify the specific allergens responsible. Based on the results, immunotherapy, such as allergy shots or sublingual drops, may be recommended to desensitize the immune system.
Post-Care Instructions:
Post-operative instructions are crucial to effectively eliminate eczema from your skin. General aftercare instructions are:
Use mild lotions and body wash.

 Clean your skin regularly.

Apply bandages for proper protection.

Apply cold compresses for gentle cooling.

Do not scratch your skin.
Recovery:
The length of the recovery period following Eczema Treatment in Abu Dhabi might vary based on a number of variables, including the condition's severity, the form of treatment selected, and each patient's response to it. A healthy lifestyle, stress management techniques, and strong self-care habits can all help with faster recovery and better disease control.
Cost of Eczema treatment in Abu Dhabi:
The cost of eczema treatment is different for each procedure in Abu Dhabi. The actual cost is determined after an initial consultation in which the doctor assesses your skin condition and develops a suitable plan for your treatment. At Enfield Royal Clinic, you can experience the most cost-friendly approach to this treatment with the best outcomes.
Factors Impacting the Cost:
Factors that can influence the cost are:
Treatment methodology

Cost of medications.

Location of the clinic.

Additional services and testing.

The expertise of the doctor.
Choose our Skincare Clinic!
Get relief from eczema with the finest eczema treatment at Enfield Royal Clinic. From moisturizers and topical treatments to advanced therapies like phototherapy, we employ the latest techniques to alleviate itching and restore your skin's health. Trust our expert team to guide you toward a tailored treatment plan that suits your specific needs. Our leading facilities are available to serve you anytime.
Book an Appointment!
Say goodbye to discomfort and hello to healthier, happier skin with our exceptional Eczema Treatment in Abu Dhabi. Contact us today to schedule a consultation and embark on your journey toward skin rejuvenation.
FAQ's: