There is no person who would not notice the appearance of lesions on skin. They can appear at any age and can often become infectious causing bigger problems than just aesthetic defects. At Enfield Royal Clinic we can successfully combat these ailments with the help of modern highly efficient technology.
Skin Lesion Removal in Abu Dhabi means removing a mole, wart, skin tag or other skin growth. Most skin lesions are harmless, but your doctor may recommend you have one removed if it's causing significant problems or could be cancerous. You may want to have a lesion removed privately if it bothers you or you don't like how it looks.
Aim of Treatment:
A skin lesion is an area of skin that is different from the surrounding skin. It can be tightness, soreness, or an abnormal area of the skin. It can also be skin cancer. Some benign formations can sometimes develop into malignant due to excessive sun exposure. Therefore, timely removal of lesions is a matter of maintaining an aesthetic appearance and health. The most popular treatment option for this problem is laser removal which effectively and rapidly solves the issue.
Benefits:
Advantages of laser lesion removal include:
Safety

: With laser healthy skin around the lesion is not damaged, thus no rough visible scars, pigmentation or burns appear.

Minimal Trauma

: There are no injuries or wounds on the skin after the procedure. Thus, there is no need to apply bandages.

Instant Results

: The minimum time to remove neoplasms is from 5 minutes.

Efficiency

: Several formations can be removed in one session.

Painless Treatment

: The treatment is practically painless. If necessary, the doctor performs local anesthesia to make the procedures comfortable for the patient.
Results:
After this treatment, you will see noticeable changes in your skin. A wonderful cosmetic effect is observed as soon as inflammation and swelling subside. However, proper skin care is critical to achieving lasting results.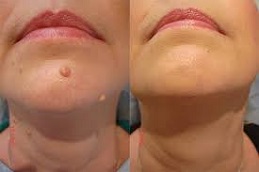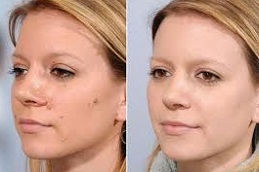 Preparation:
First, it's essential to follow your dermatologist's instructions for effective results. Also, be sure of the specific requests and the real hope you want to achieve. Whether you are going for an operation or not, a surgeon. Remember, living a healthy lifestyle is the only key to achieving results. Please consider one of the key points before proceeding with the removal of skin lesions.
Eat a healthy diet.

Take your prescribed medications regularly.

Stop smoking and drinking alcohol at least six weeks before treatment.
Treatment Options:
Following are the treatment options for skin lesion removal:
Cryosurgery
Cosmetologists and patients love cryosurgery for a whole range of pleasant sensations and an instant effect of getting rid of inflammation. At Enfield Royal, this method is widely used to treat patients.
Laser
Laser rejuvenation allows you to effectively, comfortably, and most importantly, safely eliminate various cosmetic defects, from minor to complex. Ensures the achievement of results comparable to the effect of plastic surgery in just a few sessions.
Surgical Removal
At Enfield Royal, we employ highly qualified specialists who have undergone special training, and modern technologies are used. We have doctors proficient in the technique of dermoscopic examination of the skin. The center uses an individual approach to each patient. Many years of experience helps to understand the essence of complex and challenging situations.
Recovery:
Make sure you follow all instructions your doctor prescribes. Ask him if you can shower. You will most likely feel some pain in the area you usually treat. Take pain relievers as needed.
However, maintaining a healthy and dry treatment site is key to preventing post-mortem problems.
How Long does Skin Lesion Removal Take to Heal?
Most wounds take 1 to 3 weeks to heal. If you have had laser surgery, your skin may change color and then return to normal. You may only need a bandage or strips. Your doctor may remove them after 5-14 days if you have stripes.
Cost:
The cost of Skin Lesion Removal in Abu Dhabi is AED 10,000. The doctor will determine the actual cost of the treatment after the initial consultation.
Book a Consultation!
Are you looking for Skin Lesion Removal in Abu Dhabi & Al Ain? Enfield Royal Clinic offers the best services at the most affordable rates. Book a free appointment by filling out the consultation form below.