The aging process of the human face is a natural and complex one that affects more than simply the skin. It's a three-dimensional condition that affects the skin, fat, muscle, and bone. Research in this discipline and in cosmetology has made it possible to delay or reverse the indications of aging. Anti-Aging Treatments in Abu Dhabi aspire to achieve the same results.
Aim of Treatment:
Anti-aging therapy is a method of slowing or stopping the aging process. There are a variety of surgical and non-surgical treatments available to help fight the effects of aging. Excessive sun exposure can cause skin damage and is responsible for the most noticeable skin aging.
There is no one-size-fits-all solution for all skin problems that will produce the same results on everyone. A dermatologist can evaluate the best method for you and whether you require various treatments.
What are the Telltale Indicators of Growing Older?
The effects of aging can be felt in a variety of ways, including:
Wrinkles and expression lines

Loss of fat mass

Bone structure loss

Gravity

Sun damage
Results:
Most anti-aging treatments aim to achieve tightened and moisturized skin with a youthful glow. The treatments will give you clear and toned skin without any traces of age spots and deep wrinkles.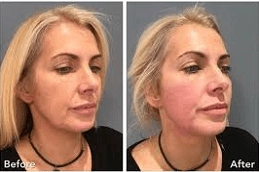 Benefits:
Modern Anti-Aging Treatments Have a Lot of Advantages
Enhances the brightness of the skin.

Improves the suppleness of the skin.

Works by decreasing the number of wrinkles and fine lines.

It is moisturizing to the core.

Skin tone and texture are improved.

Protects against oxidative stress and UV rays.

Hyperpigmentation and sunspots diminish.
Treatment Options:
There are numerous anti-aging treatments available. We'll go over the most prevalent ones below, as well as some things to consider if you're considering therapy.
Chemical Peels:
Chemical peels seek to enhance and smooth the texture of your face's skin, reducing fine lines and wrinkles. They remove the damaged outer layers of your skin with various chemicals, following which your body generates a new layer of skin.
Chemical peels range in strength from moderate over-the-counter peels to deeper chemical peels at clinics.
If you have a skin infection or a skin disease like psoriasis or eczema, you shouldn't use a chemical peel. There's also a potential that medium and deep chemical peels will leave you with scarring or changes in your skin's color.
Microdermabrasion:
It is a procedure that involves removing the top layers of your skin with a hand-held mechanical device. This smooths the skin's surface, new skin cells form, and the skin heals over the next two weeks. It's primarily used to treat lines around the mouth.
You may be given a local anesthetic for this operation or a painkilling injection called a nerve block by your practitioner.
PRP Microneedling:
Also known as the vampire facial is also known as one of the most widely used anti-aging therapies. It's actually a hybrid of two therapies—platelet-rich plasma, which is high in growth factors. A needle pen is used to inject the growth factor-rich fluid into the skin, creating thousands of tiny holes.
Your skin is fooled into believing that all of these tiny punctures are wounds, and each one undergoes a wound healing process that involves increased collagen and elastin production.
It's a powerful regenerative therapy that improves skin elasticity and firmness and texture and fine wrinkles. It also reduces pore size and helps with acne scars.
Dermatology Grade Facials:
Extractions to get all the "gunk" out of your pores, advanced wet microdermabrasion, a light peel, and lymphatic drainage are all part of our facials.
Depending on your skin's needs, they may also comprise LED light treatment and cryo-stimulation. Because the epidermal layer of our skin has a month-long turnover time, you should schedule these facials at least once a month to maintain a healthy cell turnover.
Cost:
The cost of Anti-Aging Treatments in Abu Dhabi can range from AED 599 to AED 2999. It depends on the number of sessions needed for treatment and the technique of treatment used.
Why Choose us?
People talk about 'natural results,' but if you look at before and after photos, you'll see that they're often far from natural. We promise a natural result at Enfield Royal Clinic – no pouty face, no puffy cheeks! We're holistic in the sense that we consider all elements that influence aging, but we also employ high-tech processes and products. Get your Anti-Aging Treatment in Abu Dhabi at your trusted clinic.
Book a Free Appointment!
Book a free appointment with our experts by filling out the consultation form below.