When you take good care of your skin, you can wear less makeup and let your skin shine through!
With time, beauty standards are changing but even with this change white skin is still a major beauty sign. Many people think there is no way to get permanent whitening, but modern cosmetology makes everything possible. Skin Whitening in Abu Dhabi is designed for this purpose and provides skin whitening to patients by using modern methods like IV therapy, laser whitening, chemical peels, and microdermabrasion. People who are facing dark spots, hyperpigmentation, moles, freckles, and wrinkles can benefit from the treatment too.
Quick Facts:
Procedure time: 3 months
Results last: Temporary
Side Effects: discomfort or pain 
Downtime: no downtime
Procedure type: Non-invasive procedure
What Does Skin Whitening Do?
Skin whitening in Abu Dhabi can help you resolve the following issues related to your skin:
Eliminates age spots

Uneven skin tone

Solves pigmentation issues

It makes freckles less noticeable

Removes traces of fatigue and stress
Results:
The results in each case depend on the depth of the pigment spot and the type of treatment used to correct the problem. By eradicating the cause of the appearance of age spots and, at the same time, eliminating the existing pigmentation, good results can be achieved in skin whitening. Also, some treatments may be repeated several times to achieve the desired results.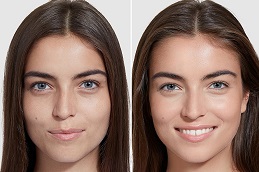 Ideal Candidate:
Skin lightening and whitening may be necessary for a variety of reasons. You are an ideal candidate for skin whitening if you have irritating age spots or, if you wish, you can whiten the skin. In case of the appearance of unwanted pigmentation, the right decision is to consult a dermatologist.
Treatment Options:
For effective skin whitening, it is necessary to establish the cause of the formation of age spots. For this, a consultation with a dermatologist and skin diagnostics is essential. The doctor will recommend the best method for your problems after the initial consultation.
Skin Glowing Injections:
Skin Glowing Injections is a powerful antioxidant produced by the human body. These are three amino acids aimed at destroying free radicals that affect aging and disease. This substance is widely used in the production of cosmetic products for the face and preparations in the form of tablets for oral administration and injections. The substance reduces the level of melanin and whitens the skin, and is one of the most popular skin whitening processes.
Laser Whitening:
Short, concentrated beams of light of a certain length penetrate the epidermis and target cells that produce too much melanin. Under the action of a laser, the outer layer of skin of the problematic area of ​​the skin heats up and exfoliates almost painlessly.
Chemical Peels:
Superficial or medium chemical peels work effectively for skin whitening. Peels exfoliate the top layer of the skin with age spots, which promotes the renewal of skin cells. As a result of peeling, the layers of cells with pigment spots are gradually replaced by healthy cells. All face peels provide light skin lightening.
Microdermabrasion:
This is also peeling, not a chemical one, but a mechanical one, based on hardware resurfacing the face with a unique diamond attachment. The effect can be enhanced using emollient lotions and preparations prescribed by a cosmetologist: after polishing the upper stratum corneum, the skin better perceives the beneficial components of external agents.
Microdermabrasion is performed only in professional cosmetology clinics in the course of 4-6 procedures. It successfully fights scars, scars, age spots, and as a bonus, refreshes, and evens out complexion and skin tone.
Mesotherapy:
Injections of a unique complex of vitamins and active ingredients are an alternative option for lightening the skin. During mesotherapy, a cocktail is injected under the skin in problem areas and zones with a fragile needle and stimulates the renewal of skin cells. Thus, metabolic processes are accelerated, and the darkened skin cells are gradually replaced with new, light ones.
Topical Treatments:
Topical treatments can be used to solve the problem of dark skin, freckles, and dark spots. A whitening face cream, along with peels and skin-brightening serums and lotions, will come in handy for anyone who has a problem with pigmentation. These may only impact the superficial layer of skin, and deeper spots may need some harsh treatments.
What to Expect?
At the end of the treatment, expect beautiful and radiant skin! Expect your age spots and tan to go for good. The effectiveness of each treatment varies depending on the complexity and cause of the problem.
Is Skin Whitening Safe?
We use the safest preparations and the most effective techniques that modern cosmetology has during the face whitening procedure. Our specialists work exclusively with certified products that have received the approval of dermatologists, which have confirmed their effectiveness and safety. We use only the most modern and safe equipment to remove pigmentation of any nature quickly. Our doctors will ensure you don't experience any side effects, not even a single rash or inflammation.
Recovery:
After strong lightening procedures, it is advisable to use sunscreens even in winter, especially for people whose skin is prone to pigmentation. If you go skiing in the mountains after whitening your face, sunscreen is a must.
After the face-lightening process, your skin needs rehabilitation. After a course of median or mid-deep peels, the young skin that remains is very much in need of nourishment. After peeling, collagen production is activated, and if this process is not maintained, it will damage young skin.
Prevention:
If the skin is prone to hyperpigmentation, you should be especially wary of the sun's rays and heed experts' advice.
Reduce sun exposure to a minimum

Don't leave home without protecting your skin with SPF all year round

Include products in your daily care that regulate the production and distribution of melanin

Carry out skin-rejuvenating activities only during the period of the lowest solar activity
Cost of Skin Whitening in Abu Dhabi:
Various options are available for Skin Whitening in Abu Dhabi, and the prices for each treatment can vary. The Skin Whitening Treatment Cost in Abu Dhabi ranges between AED 300 to 3000 AED.
Book an Appointment!
If you do not like what shade your face or body has and want to opt for Skin Whitening in Abu Dhabi, you should not experiment it is much safer to consult a certified cosmetologist at the Enfield Royal Clinic.
FAQ's: