GET THAT FLAT STOMACH NOW!
Does having a fat belly frustrate you? Do you find it hard to maintain a slim waistline and want a more permanent solution to your weight issues? Here at Enfield Royal Clinic, we have got the perfect solution for you. Visit us today, take advantage of cosmetic advances, and get yourself a Tummy Tuck in Abu Dhabi for long-lasting results! Helping you achieve your goals is what we are proud of ourselves for.
About Tummy Tuck:
Formerly, people used to go through severe weight loss and diet plans to restore body contouring, but with current advancements in aesthetic body trends, changing your body has become simpler and more manageable. The abdominoplasty, or tummy tuck, is a procedure that involves eliminating unnecessary skin and fat from the waist and tightening the abdominal muscles to recreate a flat and slim waistline. An extended tummy tuck also takes fat from the love handles and the area between the waist and hips.
Candidates:
If you're thinking about getting a Tummy tuck in Abu Dhabi & Al Ain, make sure you meet the following criteria:
You have a floppy or excess skin over your abdomen and waist
You have an unpleasant body shape due to weight loss, weight gain, reduced activity, or pregnancy
You were once obese
You want to repair extra fat skin fully
Results of Tummy Tuck 2022:
A tummy tuck can give you a more toned and smaller waistline and appearance by removing excess skin and fat and reinforcing your abdominal wall. If you maintain a stable weight, these results are generally long-lasting.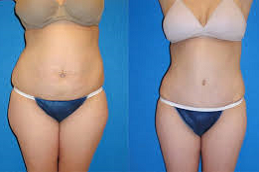 FAQ's:
Preparation:
Before your tummy tuck, you'll most probably be requested to take a blood test to make sure you're healthy to have the surgery. You'll also have a sit down with your surgeon to talk about what to expect.
You may also be asked to:
Stop smoking
Take certain medications
Avoid taking aspirin, anti-inflammatory drugs, and herbal supplements as they have been known to cause more bleeding
Take a healthy diet heavy on protein. Continue this diet after the procedure, with a guide from a nutritionist
Enlist members of your family or friends to help you through the procedure
Communicate with your doctor about any relevant health information and lifestyle habits.
Keep an eye on your health
Procedure:
For patient comfort and safety, abdominoplasty is performed under anesthetic. The two options for sedation are intravenous sedation and general anesthesia. Your medical examiner will suggest the one that is ideal for you.
Here is how Tummy Tuck in Abu Dhabi is done at our clinic:
The incision depends on the amount of excess skin that needs to be removed.
In general, the first incision is created between the belly button and pubic area to lift the abdominal skin and repair the underlying weak muscles.
A second incision may be created to take excess skin from the upper abdomen or around the hips and waist, extending to the lower back depending on the excess skin and tissue that needs to be removed.
The skin of the upper abdomen is then pushed down, and the unwanted skin is clipped. The belly button is given a new opening and then sutured into a new place after popping through the surface.
At the end of the procedure, surgical sutures and dressing are applied to the abdominal incision and belly button to prevent infections of any kind.
Aftercare and Recovery:
It's normal to want to get back on your feet right after the surgery, although you must give your body a fair chance to recuperate. You may be allowed to return home within 24 to 48 hours.
The exact recovery time is different for everyone. There will be some discomfort and pain in the initial stages of recovery, which can be handled with pain medication.
Within a couple of days after the surgery, you will be advised to walk and move about regularly. After a fortnight, light activities will be more comfortable. You may be able to resume exercise and activities after 6-8 weeks of the tummy tuck procedure.
Advantages:
This procedure has the potential to provide you with a wide range of cosmetic and medical benefits:
When you have loose skin on your belly, your abdominal muscles deteriorate, which can lead to backaches.
Your abdomen will be more toned and flatter.
Your waistline will indeed be significantly smaller, resulting in a more attractive general appearance.
You'll feel and look a lot better.
The surgery will give you a new appreciation for exercising. Exercising, walking, and running may come naturally to you.
You can strive to maintain a healthy weight and general well-being, which is a significant health benefit.
Cost of Tummy Tuck in Abu Dhabi:
The Tummy Tuck Cost in Abu Dhabi starts from 38,000 AED. The rate may be varied according to your requirements and depending on your surgeon's expertise.
Installment Financing Tummy Tuck:
Stop worrying about the costs, as at our location we are presenting the tremendous offer of 100% financing with no interest rate. We don't let the cost be a barrier for our clients, get the treatment and later pay the cost in monthly installments. These easy payments allow the candidate to go through the process without paying or worrying about the cost at the time of treatment. For further concerns, consult with our experts.
Best Plastic Surgeon for a Tummy Tuck:
Meet the best plastic surgeon at Enfield Royal Clinic to get back to the shape you had before having any children. Whether it is post-pregnancy, breastfeeding body, or any other reasons. We have the best plastic surgeon for a Tummy tuck in Abu Dhabi, who are skilled and experienced in their field. so book us now to remove the extra skin on the abdominal site by our best-talented surgeon in Abu Dhabi.
Why Choose Tummy Tuck at Enfield Royal Clinic!
Enfield Royal Clinic offers you a variety of cosmetic procedures to help get you the look of your dreams. Talk to our cosmetic surgeons if you're thinking about getting a Tummy Tuck in Abu Dhabi. They will help you answer all your questions and queries about the procedure and help you understand the benefits, risks, and aftercare. Get in touch and book yourself an appointment now!