Hey, get that perfect ass now!
Are you tired of getting HA fillers for your butts every month and wish for a more permanent solution? At Enfield Royal Clinic Abu Dhabi, we have got you covered with our Buttock Augmentation in Abu Dhabi. It is a gift of cosmetic advancements to those who can't keep up with long-term fillers treatment and desire to undergo a quicker and more reliable procedure for making their buttocks rounder and fuller.
Quick Facts:
Procedure time: some hours

Results last: permanent

Side Effects: itching or pain

Downtime: one month or more 

Procedure type: invasive procedure
Purpose:
You can opt for buttock augmentation in Abu Dhabi for a considerable aesthetic enhancement of your body – particularly the butts; the procedure can improve the contour, shape, or size of your bottoms and give you an improved personal profile overall.
Buttocks Augmentation Results Abu Dhabi:
Buttock augmentation in Abu Dhabi will provide you with long-term benefits; you will be able to enjoy new, rounder buttocks for the next six to eight years. However, keep in mind that aging and gravity might cause a negative impact on the aesthetics of your buttocks again, especially if you do not maintain a healthy weight and lifestyle.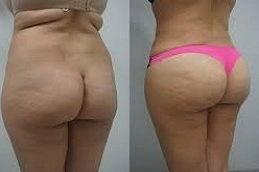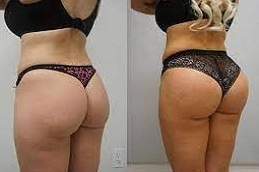 Techniques:

Fat Transfer
Fat transfer is a prevalent method that utilizes the patient's own fat to give natural-looking volume to the buttocks.
Implants
Implants, on the other hand, are synthetic prostheses that are surgically introduced into the bottom area, adding more prominent volume to the butts.
Candidates:
If you want to add volume to your buttocks 

Have enough fat to gain from other body parts

You have overall good physical health 

Your weight is stable 

You are a non-smoker

Hold realistic appraoch to the treatment

However, candidacy criteria for implants can only be assessed through an in-person consultation with a qualified and experienced surgeon.
Benefits:
Here is what you can look forward to after getting our buttock augmentation surgery:
Rounder, fuller, and more appealing bottoms
Beautiful and most wanted youthful look
Boosted self-confidence
Improved body balance and profile
Preparation:
To prepare for your buttock augmentation:
Make sure you are in good general health and pose realistic expectations
Adjust your current medications
Stop drinking alcohol
Avoid tobacco products for at least two weeks prior to the operation
Procedure:
We have a team of experienced cosmetic surgeons at Enfield Royal Clinic Abu Dhabi willing to serve you with the best aesthetic care. Here is how our surgeons usually perform Buttock Augmentation in Abu Dhabi:
First, the patient is given local or general anesthesia depending on the volume he/she desires. The surgeon can also provide them with anti-nausea drugs, especially if they are prone to anesthesia-reactions
If fat grafting is elected, he will then use liposuction to remove fat from localized areas of your body such as the stomach, breasts, or thighs.
The fat that has just been extracted is then cleansed, packaged, and then re-injected into your butts
However, if implants are chosen, he will place the saline implant deep in the tissues of your butts surgically
In the end, all the created incisions are closed with stitches
*Regardless of the technique used, whether it's surgical or non-surgical, buttock augmentation will ultimately give your buttocks a fuller, more rounded look.
Recovery & Aftercare:
Most buttock augmentation surgeries are performed as outpatient procedures; patients spend approximately two to three hours in the hospital and then leave for home. However, the recovery period lasts about one to two weeks.
Bleeding, swelling, soreness, and itching are also normal but should subside in a couple of days. You are encouraged to avoid strenuous activities throughout the recuperation period. Also, it is essential to quit smoking at least until you get the desired look.
Buttock Augmentation Cost in Abu Dhabi:
The cost of buttock augmentation in Abu Dhabi is based entirely on the method you pick. Here we have the general costs of some of the most popular buttock enlargement procedures. Fillers are the most common and least expensive choice.The exact price, however, may differ from one person to the next depending on the type of filler used.  Implants are the most advanced buttock augmentation procedure and are therefore the most expensive of all the options. Implant emplacement Buttock augmentation cost in Dubai usually ranges from  AED 30,000 to AED 47,000.
Key Takeaways:
Buttock augmentation in Abu Dhabi is gaining immense popularity as it brings exceptional quality results fast, with lesser sessions compared to fillers. Two common techniques used for this purpose are liposculpture and gluteal implant emplacement.
Side Effects:
There are a few risks associated with the process but they will be subsided in a few times. These are usually Pain & scarring that can be treated with time.
Best Surgeon for Buttocks in Abu Dhabi:
We have the Best Surgeon for Buttock augmentation at Enfield Royal Clinic. They are highly skilled & delicate practitioners, who have spent numerous years working and performing such therapy that results in effective and long-term benefits. If you have any more questions to ask, then feel comfortable meeting our specialist anytime. Yes, you are at the right location, book us and avail of the treatment.
Why Choose Enfield Royal Clinic?
We have an experienced team of cosmetic surgeons who are skilled in correcting various cosmetic issues. So, if you are considering Buttock Augmentation in Abu Dhabi, talk to our cosmetic surgeons. They will make sure you better understand what the procedure actually entails, the risks, benefits, complications, aftercare, in fact, everything related to the surgery you are interested in. So it's time to make an appointment with us and acquire the most enticing buttocks now.
FAQ's: