Figure matters a lot in the present era and now you can also improve your impression by applying this technique. People who have flat and thin butts can modify their butts by French Butt Reshaping in Abu Dhabi. This process will not only change the appearance but also help in increasing the size. So get butts of your desired size and shape to look more attractive.
What is Butt Modification?
A buttock lift will reshape the butt by removing fats from one area and adjusting that area by compressing and blending. Although, it will not increase the size of your hip but will make it look more satisfactory. Sometimes, fats on the parts of the body where they are not necessarily required are removed from that area are then placed on the buttocks to improve the gaze. In some cases, silicone is planted on the butt tissues to provide enough fat. 
Varieties of Buttock Reshaping:
Body lift

Fat grafting

Silicone planting

Liposuction
Buttock Reshaping Process:
The French Butt Reshaping In Abu Dhabi & Al Ain proceeds depending on the type of treatment a person is fetching. 
Butt Lift:
From choosing the best way to the application your doctor will first guide you and then you will receive the treatment accordingly. If a person has undergone any type of surgery before. The extra fats present in the area above the upper high are taken first by cut and then placed in the area where the shape has to be improved.
Fat Grafting:
The cannula is responsible for filling the buttock with fat in certain areas after its removal from diverse excess fatty parts. After fats are properly processed to check for blood and collagen. It is then inserted into the buttocks.
Silicone Planting:
In this method, the silicone grafts are positioned on each buttock to make it appear more enhanced. For this, an incision is first done and then closed after the process by the skin and tissue coupling.
Benefits:
The advantages of butt reshaping are as follows:
Get a perfect butt alignment

The recovery rate is also less 

Less tumult and restlessness

Uses your own fats to treat

It is applicable to thighs and hips
Results:
Our French butt reshaping in Abu Dhabi is very successful and has transformed a lot of people into their dreamed look. Now that candidates are more confident and have impressive personalities. Butts will be properly shaped after this treatment. Your butts will become more rounded and better emerge. Results will be dramatic if you cope with your weight. You will suffer from the consequences for almost 15 days. The results are long-lasting but to avoid any sort of problem it is best to have an implant after twelve years. The outcomes are as follows: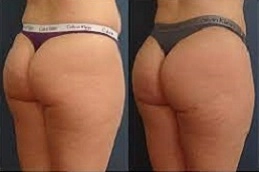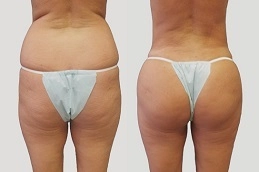 Ideal Candidate:
Having a buttock surgery is really thoughtful so patients who want to undergo this treatment must have good faith in the process and have already prepared for the results as the butt will be changed to a completely new appearance. People who do not smoke and do not consume alcohol are ideal for this technique. People who are not comfortable in their under attire due to the saggy looks of their butts can go for this french butt reshaping. You are advised to have butt reshaping if you don't hold a medical history and are healthy and fit. Doctors in Enfield Royal Clinic will guide you if you are an ideal candidate for the process after proper examination.
Measures Before Surgery:
In order to avoid any inconvenience you should:
Tell about your medical history to your doctor. 

Stop taking any medicines or drugs that can be a hurdle in blood thickening.

Eliminate smoking before the treatment to ensure better results.

Sound health and having a stable body weight is essential.

Start having a good diet before the treatment.
Strategy:
Anesthesia will be first given to the patient at the place where liposuction will go on. After marking at areas where it has to be done the operation will commence. The doctor will take the fats out of the butt at around 600cc by liposuction 360 from under the skin and then the extracted fats will be ingrained inside the butt muscle. The skin will be bound jointly. Finally, the bandage will be done after stitching.
Care After Treatment:
You have to do extra care after French Butt Reshaping In Abu Dhabi. You will have to do the following:
Wear pressure-applying clothes to maintain the shape and for better adjustment of the muscles.

You should not do weight lifting after this procedure

Try to avoid caring heavy weights so that the muscles stay together.

Stop doing exercises for around 60 days.

Volume in the butt region that has reshaped will continue varying.
Cost of this Treatment:
The cost of this procedure variates from AED 90,000 to AED 120,000.But there are certain factors that are involved in deciding the cost. The cost- facts are as follows:
Clinic reputation

Doctors experience

amount of work done on the patient's butt

Site of the hospital

Quality of the treatment
Why Choose us?
Royal Enfield Clinic is best known for its expertise in Abu Dhabi. Butt reshaping is a sensitive procedure and our dermatologists are best at handling this reshaping process. It is offering this treatment at a reasonable price for making this treatment affordable for its patients. Also, it takes good care of hygiene to make sure about the safety of its clients. Our exceptional results are proof of our treatment quality. We show our reviews with dignity that is making our clinic the ideal choice for the patients.
Book a Consultation!
Have a free diagnostic session with our expert doctors at Enfield Royal Clinic. They will guide you about every small detail regarding your situation and condition.