Without going to the gym, there is an innovative, quick, and effective solution to get rid of drooping skin and get a gorgeous figure. In our clinic, we can conduct J Plasma for Thighs and Arms in Abu Dhabi in a high-quality and safe manner.
How Does it Work?
Cold plasma, which is injected beneath the skin, causes an immediate contraction and enhances the skin's suppleness. J-plasma is a new approach that has quickly risen to the top of the world market for aesthetic surgery due to its low invasiveness and excellent efficiency. This is a one-of-a-kind skin tightening method that does not require invasive surgery.
Benefits:
The treatment has the following benefits:
Effectively tightens the skin of the face, neck, body

The guaranteed visible result immediately after the procedure

It does not leave scars

J-plasma procedure is absolutely safe

It is not required to make incisions on the skin, only small punctures

Surrounding tissues, organs are not affected, not damaged

In most cases, one session is enough to achieve the desired effect

The method has no analogs in terms of its minimally invasiveness and efficiency
Results:
Instantly after the process, your skin will be supple and contoured! There is no need to exfoliate burned skin as with a traditional laser, there is no extensive healing time, and there are no unsightly scars. You will glimpse your ideal self in the mirror. After a few days, the outcome will be even greater after minimal swelling has subsided.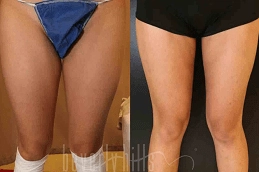 Ideal Candidate:
Any region of the body with loose skin can be treated with this technique. The face, neck, chest, thighs, arms, shoulders, knees, and belly are the most typical areas where J-Plasma is employed. It's also perfect for the following situations:
Lost a large amount of fat, and the skin began to sag when I followed a diet and exercise routine.

Weight is normal, but the buttocks or arms are not in good form due to sagging skin.

The skin on the chin and cheeks begins to sag.

Liposuction was performed; however, the skin was reduced as a result of the procedure, giving it an unattractive appearance.
Procedure:
A small entry site is created on the target location to allow the device to be placed beneath the skin. After then, helium gas is released to produce a precise energy stream that cools the treatment region. This energy combination allows you to compress the tissue right beneath the skin, causing it to contract.
Excess skin is removed using cutting-edge technology, which helps to eliminate extra incisions and scarring. Excess skin can be reduced, skin structure can be improved, and skin can be tightened using J-Plasma technology. This allows for skin tightening without the need for cuts.
The operation can be performed in conjunction with liposuction or as a stand-alone technique. The treatment is carried out through 5 mm punctures in natural folds, with no signs left after the wounds have healed.
Recovery:
The rehabilitation time is substantially shorter than with traditional liposuction.
There will be some swelling and bruising on the body after the skin tightening process, but this will go away in 1-2 weeks.
The client does not require medical attention and can return home after a few hours. After a J-Plasma treatment, you can resume an active lifestyle the next day.
Cost:
The cost of J Plasma for Thighs and Arms in Abu Dhabi can range from AED 1499 to AED 2999. The cost varies from person to person as the desired results and expected sessions needed to achieve them are different.
Book an Appointment!
At Enfield Royal clinic, our mission is to help patients achieve beauty in a relaxing and pleasant atmosphere. We are continuously striving for a positive outcome! Fill out the consultation form below to book a free appointment to learn more about J Plasma for Thighs and Arms in Abu Dhabi.