Muscle activation for a youthful and lifted effect!
The new and cutting-edge technology is so special that it is deserving of its own spotlight. DMA Dynamic Muscle Activation in Dubai can help enhance muscle tone. It is a breakthrough technology that provides non-surgical aesthetic treatment beyond the dermal and fat layer, right through the muscle level.
Until recently muscle was not considered important in the beauty and aesthetic industry. It has long been overlooked but it plays a vital role in maintaining a youthful and younger appearance with a firm and tight skin on face and body.
Aim of Treatment:
With the DMA Dynamic Muscle Activation system, short-term DC pulses are applied through the handle electrodes. This occurs simultaneously with the delivery of RF energy. DC pulses cause muscle contraction in the projection near the Maximus handle. During the operation of the apparatus, these impulses constantly stimulate muscle activity.
It enhances blood flow and lymphatic drainage resulting in betterment of both facial and body non-surgical procedures.
Results:
The treatment results in strengthening muscles and an improved aesthetic appearance. The face and body become more toned and stronger. Strengthening blood circulation and lymphatic drainage. It provides unprecedented results in anti-aging, fat, and cellulite reduction.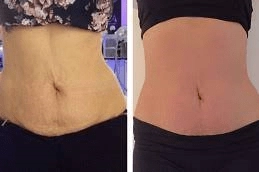 Benefits:
The treatment offers numerous benefits:
It can significantly lessen the signs of aging

The procedure is safe, straightforward, and effective

It can contour the body and face

It is a cost-effective treatment
Preparation:
It is a safe, short, straightforward, and effective procedure. It does not cause severe or persistent side effects. Therefore, no preparation for treatment is required. Similarly, patients should follow simple follow-up care measures to avoid excessive sun exposure after treatment. Also, as a rule, careful postoperative care is not required unless a dermatologist advises.
Procedure:
The treatment can do wonders for your skin. It has two main application areas, the body, and the face, and it works differently on both:
Body Treatment:
It stimulates the internal muscles while exerting external pressure on the target area, resulting in the release of fat from fat cells between the muscles and the layers of the skin. This process resulted in effective fat reduction and increased skin firmness, and a smoother and firmer appearance of the treated area.
Facial Treatment:
DMA stimulates superficial SMAS and platysma as an anti-aging treatment, resulting in muscle building, toning, and contouring. While DMA is effective as a stand-alone treatment, it works much better when combined with other treatments.
Aftercare and Recovery:
In general, the recovery period after FDA is short and unstable. In addition, candidates can start noticing results immediately after the procedure. Increases muscle size and density. Plus, it improves muscle tone and definition. Results are usually long-lasting and can be enhanced when DMA is used with other skin rejuvenation treatments.
Cost:
The cost of DMA Dynamic Muscle Activation in Dubai depends on several factors and can go up depending on the doctor's expertise, clinic reputation, and the sessions needed.
Book an Appointment!
If you want to get DMA Dynamic Muscle Activation in Dubai, book a free appointment by filling out the form below.