Are you tired of battling stubborn blemishes and irritating pimples that just won't seem to go away? Do you constantly search for the perfect solution to accomplish pure, joyful skin? If so, you're not alone. Acne can be a frustrating and confidence-shaking disorder that distresses millions worldwide. Are you looking for affordable acne treatment? You have arrived at an ideal destination because our clinic deals with skin care problems with a practical approach that guarantees maximum results at an affordable range of price. Continue reading this article to learn more about natural acne treatment in Abu Dhabi and book us.
Quick Facts:
Cost: Starting from 999 AED
Results:

 Improved Skin Condition

Duration:

Varies on Treatment

Type of Procedure:

Completely Harmless
Aim of Treatment:
The treatment treats the underlying causes of zits and thus reduces the chances of reappearance of acne. It smoothens out the skin by clearing the pizza face and enhancing the appearance of the individual. The acne scars caused by zits are also treated improving the overall texture and quality of one's skin.
What Causes Acne?
Several primary factors contribute to the development of acne:
Excessive Sebum:

Our skin naturally generates sebum to maintain moisture levels, but an overactive sebaceous gland can result in an overproduction of sebum. This surplus oil can obstruct hair follicles, ultimately leading to the formation of acne.

Hormonal Fluctuations:

During puberty, androgen hormones can stimulate the sebaceous glands, causing an increase in sebum production, which in turn contributes to the emergence of acne.

Dietary Habits:

Although ongoing research is investigating the connection between diet and acne, some studies propose that high-glycemic foods and dairy may exacerbate acne in specific individuals.

Stress:

Elevated stress levels trigger the release of cortisol, a hormone that augments oil production and inflammation, possibly deteriorating the condition of acne.

Genetic Predisposition:

A family past of acne can increase your susceptibility to the condition if your relatives have experienced it.

Use of Cosmetic Products:

Certain cosmetics and skincare products have the potential to clog pores, particularly when they are not compatible with your specific skin type. This can contribute to the development of acne.

Environmental Influences:

Exposure to pollution, high humidity, and specific occupational conditions can influence the likelihood of developing acne.
Benefits:
The treatment leaves the skin pimple-free

It enhances the confidence of a person by improving their appearance

It gets rid of stubborn pimples permanently and reduces the appearance of scars

The results are visible after a single treatment

Reduces the chances of skin inflammation in the future by treating the underlying causes of it

The treatment leaves the candidate stressed, happy, and satisfied
Results:
The treatment results in acne-free skin. The appearance of pimples gets reduced and with time these completely vanish leaving behind smooth and soft skin. The time taken to clear the skin inflammation depends on the method of treatment adopted by the skincare specialist.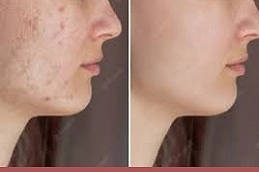 Ideal Candidate:
If zits make a person conscious about their appearance they are ideal for the treatment.

A medically fit candidate with no serious medical or skin condition

Somebody with not very dry skin

A patient with no history of cancer

A person who wants a clear acne-free skin

An individual with settled acne and constant breakouts for at least some months

A candidate who notices scars of acne
Preparation:
In the initial consultation, the doctor discusses the problem areas and issues of the patient. The skin is examined thoroughly and medical history is reviewed. To confirm the underlying cause of the acne, the doctor may suggest some blood work. The doctor then suggests a number of procedures to treat acne. The method chosen depends on the expected results of the patient.
Once the treatment is decided, the doctor plans the course of action and gives a list of instructions to be followed by the patient to prepare for the treatment. The patient is to avoid any unnecessary sun exposure and keep their skin clean to avoid any complications.
Top Acne Treatment in Abu Dhabi:
Dermatologists offer a range of in-office procedures to address acne concerns effectively:
Chemical Peels:

These procedures involve the elimination of the outermost skin layer, effectively diminishing acne scars and enhancing skin texture.

Microdermabrasion:

Employing a mechanical exfoliation method, this technique aids in the clearing of pores and enhancing the overall appearance of the skin.

Laser and Light Therapies:

Various light-based therapies are available to specifically target bacteria and alleviate inflammation.

Microneedling Technology:

Utilizing microneedles, this procedure is employed for skin tightening and is also known to aid in the reduction of acne and its associated scars.
How We Treat Acne and Acne Scars:
Enfield Royal Clinic adopts a customized and holistic approach when it comes to addressing acne and subsequent scarring. Our team of seasoned dermatologists initiates the treatment process by conducting a thorough assessment of each candidate's distinct skin condition, meticulously identifying the type and severity of their acne or scarring issues. We extend a range of tailored solutions, including pimple treatments, advanced in-office procedures, and laser acne treatments in Abu Dhabi, all geared towards catering to individual requirements.
In the context of acne scars, our clinic harnesses cutting-edge methods, including laser therapy, chemical peels, microneedling, and dermal fillers, to facilitate the attainment of smoother and more uniform skin. We hold a strong commitment to patient education, offering comprehensive guidance on post-treatment care to ensure not only immediate improvements but also the enduring preservation of results.
Aftercare and Recovery:
The post-procedure care is very important to get the desired results. The skin is to be kept clean at all times and any chemical products that may affect the treated region should be avoided. Only the ointments prescribed are to be applied until the skin is healed. Avoiding sun exposure, using a sunscreen with high SPF and moisturizing is just as important.
The recovery period depends on the method of treatment. Some treatments have a comparatively less recovery time than others.
Acne Treatment in Abu Dhabi Cost:
Our commitment is to deliver harmless, genuine, and personalized solutions that restore confidence and encourage clear, healthy skin. Our clinic utilizes modern technologies to attain techniques that deliver effective outcomes. The Acne treatment price at our clinic starts from 999 AED. This initial price can be affected by some other factors as well.
Factors Impacting Cost:
Severity of Acne.

Skin Type.

Area being Treated.

Number of Sessions.

Type of Treatment.

Technology Used.

Expertise of Doctor.

Location of Clinic.
Book us Now!
If you are willing to invest to achieve your goals for perfect skin we recommend you book an appointment now with our specialist for Acne Treatment in Abu Dhabi to experience rejuvenation and revitalization at our clinic. 
FAQ's: