Facelift surgery in Abu Dhabi, provided by us, is an invasive modification of the skin. With a surgical procedure, a facelift improves folds, unattractive jawline, and poorly defined neck — helping you regain the natural balance and healthy look that natural aging has taken away from you. This option is usually recommended only after you have tried non-surgical procedures but failed to achieve the desired results.
In this article, we are highlighting all the important aspects of Facelift Surgery in Abu Dhabi & Al Ain, so that you can make a well-informed, healthy decision.
Facelift Technique:
Facelift surgery entails pulling back the flap of skin on either side of the face and then removing excess skin. This is usually done under general anesthesia and takes three to four hours to complete.
Candidate:
Anyone who wants to improve the loose skin is a candidate for Facelift Surgery in Abu Dhabi. Examples of concerns that are commonly addressed in facelift surgery in Abu Dhabi include:
Folds of facial skin
Uneven jawline
Loose skin on the neck
Note: Patients who have had non-surgical anti-aging procedures but were left behind by the aesthetic outcomes are considered the best.
Before & After Results:
Because the skin is enhanced surgically, the results can endure ten to fifteen years or longer. It can, however, take up to three months for the outcomes to fully manifest.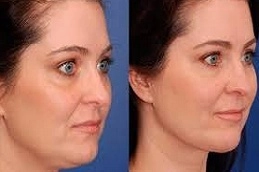 Preparation:
There are a lot of things that you will be required to do and a lot of things you should avoid before your facelift surgery. It's the surgeon's responsibility to provide you with specific advice regarding medications, activities, diet, and hygiene. Below we have listed some of the important tips to help you prepare well for your facelift surgery in Abu Dhabi:
Avoid eating high-salt foods for at least two weeks before the surgery
Please don't smoke. Smoking affects blood flow, so those who smoke heal slower than those who don't
It is recommended that you don't eat or drink anything, even water, six to eight hours before
Making dramatic dietary adjustments can negatively affect the results, so continue with the regular diet
Refrain from alcoholic beverages
*If you don't understand any of the pre-op recommendations, don't be afraid to ask for an explanation; neglecting to do so could really put you in jeopardy.
Procedure:
During Facelift Surgery in Abu Dhabi & Al Ain, an incision is made in the hairline close to the temples and then continues down to the lower scalp. To put it another way, the incision begins in front of the ear, goes down to embrace the earlobe, and then returns to the lower scalp behind the ears.
Unwanted fat and skin can then be modified, either removed or redistributed. The muscle may also be tightened or repositioned. FYI: if there is just minor skin drooping, a mini-facelift may be sufficient.
Thread lifts are sometimes used with facelifts to tighten and pull back the skin. The approach generally requires an incision made under the chin
Finally, dissolvable and non-dissolvable sutures will be used to close your incision. Suture type is often determined by the procedure's complexity. You'll also likely have a drainage tube and bandages wrapped around your face. The exact procedural steps vary depending on the desired results.
Aftercare:
Appropriate aftercare can truly assist you in enjoying a smoother and faster recovery, so please candidly ask about all the post-op concerns you may have. Also, follow these care instructions to get the best results possible:
Use ice bags and Swiss eye masks for post-op swelling
Take prescribed pain medications every three to four hours for a couple of days
I prefer a light diet in the first few days. It's better, to begin with, a liquid diet and then head to soup or jello.
Moving your head to one side or the other will cause the stitch edges to break apart. Turn by sliding your head and shoulders together.
Pros and Cons:
Pros:
With Facelift in Abu Dhabi, you can:
Regain a more youthful appearance
Improve your overall outlook on life
Keep the skin young and tight for a couple of years
Get rid of folds, fine lines, jowls, and sagging
Get a sharp, chiseled jawline that you have always wanted
Cons:
Facelift risks include:
Infection
Bruising
Bleeding
Poor wound healing
Skin discoloration
Numbness
Nerve injury
Prolonged soreness
It's worth noting that these concerns are uncommon and can be avoided with proper follow-up.
Recovery:
Recovery from facelift surgery is usually quick. In most cases, the majority of adverse effects last for a few days to a week. However, patients who receive a facelift at Enfield Royal Clinic must refrain from wearing cosmetics and exposing themselves to the sun for one to two weeks. Additionally, if non-surgical sutures were used in their operation, they must return to their surgeon within six to seven days to have them removed. To learn more about the healing process, please meet with Dr. Majeed in person.
Cost of Facelift in Abu Dhabi:
Even though the cost of a facelift in Abu Dhabi can vary widely depending on the complexity of the operation, it generally costs approximately AED 600. It may go up to AED 750 in most cases.
Consult the Best Plastic Surgeon for Facelift Surgery:
To get an effective and long-lasting outcome for a facelift, consult the best plastic surgeons at our location who acquire special skills, and knowledge, and are well-trained to design a skin or customize any method according to the appeal of the candidate. To attain the best possible results and have a memorable experience feel free to visit us, we are here to be your helping hand. For any further concerns, fill out the form or give us a call right away!
Why Choose us?
Creating a younger appearance on your face is the facelift's primary objective. Indeed, undergoing facelift surgery is a very personal decision and needs a true understanding between the patient and the surgeon. It's also one of those procedures that call for an experienced, highly skilled surgeon. Enfield Royal Clinic Cosmetic Surgeons are dedicated to assisting patients in meeting their aesthetic goals and fulfilling their dreams of becoming more confident and contented. The surgeon cares for your facelift surgery being successful every bit as much as you do and is popular for the specific approach he takes for the operation. Take the first step in fulfilling your dreams and join us for a Facelift Surgery in Abu Dhabi & Al Ain by consulting us through the given form below.