With the constant emergence of new developments in skincare, many people are finding solutions to help them achieve clearer, smoother, and more youthful skin through a variety of innovative therapies. For those looking to correct hyperpigmentation, melasma, dark sunspots, acne scars, and freckles, Cosmelan Peel Treatment in Abu Dhabi is the perfect approach to restore and smoothly rejuvenate your skin, even with the tone and texture of your youth.
Aim of treatment:
Cosmelan is one of the most influential and well-known chemical peel treatments. The treatment solves the following problems:
Pigmentation

: All types of pigmentation such as melasma, post-inflammatory pigmentation, sunspots and age spots, and freckles can be treated. A specific skincare regimen follows a pigmentation reduction exfoliation to reduce pigmentation for three months. This removes the pigment source, reducing melanin overproduction in the melanocytes.

Sun Damage

: Skin aging caused by regular exposure to the sun, facial imperfections due to excessive pigmentation, or more general imperfections caused by melanin, are dark spots of the increasingly common problem today.
Benefits:
At Enfield Royal Clinic, we offer advanced peel treatment with the safest and effective ingredients. The main benefits of Cosmelan skin are:
Reduction of dark spots

Treatment of melasma

No pain during treatment

Quick results

It can be used all year round

Effective for pigmentation
We assure you that you will not experience any side effects during your treatment with us!
Results:
Cosmelan peel is safe on all skin tones; anyone looking for a fresher, lighter feel is a good candidate. Over the course of a week, clients will notice that the skin rashes begin to slow down significantly, and the movement becomes clearer. After a few weeks, the skin will take on a healthier complexion. These results will improve in the coming weeks as all the benefits of Cosmelan Peel can be seen.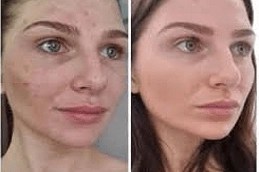 Ideal Candidate:
Hyperpigmentation is a problem that affects many of our clients, and Cosmelan skin offers an advanced approach. An ideal candidate must fulfill the following conditions:
Moderate to severe pigmentation problems

Skin discoloration caused by genetics and other factors

Irregular skin color and dark spots

Not pregnant or breastfeeding
How Does Cosmelan Work?
The skin has special multicomponent melanin blocking depigmentation suitable for all skin types.
The Cosmelan method reduces the skin's natural melanin production by limiting melanin production to give it a shot.
Skin can significantly reduce dark spots, dry areas, blemishes, and even acne scars.
Trained professionals can only administer Cosmelan Depigmentation treatment, and you should continue to receive support products at home, every day, as instructed.
Preparation:
Follow the following guidelines to prepare for the treatment:
Avoid excessive sun exposure before the treatment

If you are receiving any other skincare products, especially those containing glycolic acid, you should stop using them entirely at least one week before your procedure.

Before the treatment, you will have a consultation with the doctor; he will assess the skin completely

Your desired results will be discussed
Procedure:
The steps of the method are as follows:
Our advanced skin healers cleanse and condition your skin

Apply the Cosmelan mask evenly in a thick layer.

The mask may stand up slightly, but the sensation will quickly disappear when applied.

Depending on the required correction level, the mask should last from eight to twelve hours.

You will be given detailed instructions on the correct movement techniques and how and when to remove the mask at home.

We will provide you with a complete after-sales service package and instructions for use.
Aftercare and Recovery:
Follow the following guidelines after the treatment:
Immediately after treatment, avoid sauna or steam room for two weeks after treatment; this may cause additional sensitivity

For the next 24-48 hours, avoid scratching and exfoliating the sponges, exercise, heat in the hair salon, etc.

Do not peel, lift, scratch, or scrape the skin or any loose skin resulting from the treatment. This should happen in due time without any help; ignoring this advice can lead to injury!

Avoid using chlorine for two weeks after exfoliation.

Avoid cleaning beds and sun exposure for at least a month after treatment.

Avoid wading through the treated area for two weeks after treatment.

Do not use glycolic acid, retinol, or scrubs for 30 days after your procedure.

For maximum results, use the recommended home care products.

Awareness and swelling of some redness and inflammation are expected during the first seven days.

Stop using cosmetics for 24-48 hours
How Long will my Results Last?
The results can last as long as you want if you have sun-damage pigmentation. If you protect your skin from the sun, you should see results for 18 months. However, melasma and hormonal pigmentation occur inside out, so you may need additional treatment once a year.
Cost:
The cost of Cosmelan Peel Treatment in Abu Dhabi can range from AED 1000 to AED 4000. The doctor will determine the actual price after the initial consultation. The cost is affected by several factors, like the expertise of the doctor and the technique used.
Book an Appointment!
Finding dark spots on your face can be stressful. They can make you old and undermine your self-confidence. However, this is not a problem that cannot be treated with the Cosmelan Peel Treatment in Abu Dhabi. You can sign up for a free consultation at our clinic, and we will help you regain youth and natural expression.